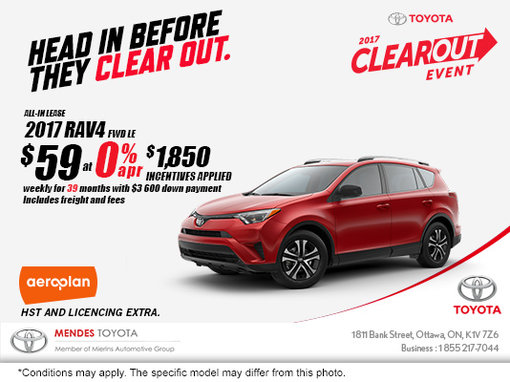 Lease the all-new 2017 Toyota RAV4 LE FWD for as low as $59 weekly for 39 months at 0% with $3,600 down!
Includes a $1,850 customer incentive!
Freight and fees included, HST and licensing extra.
Hurry in and book your test drive today!
This offer is valid until October 2, 2017.
Limited time offers available from Toyota Financial Services on approved credit. ^Limited supply available. As of September 1, 2017, there are 533 units available of 2017 RAV4 FWD LE (Model ZFREVTB). Dealer trade may not be available. Numbers will decrease as units are sold. †0%/0%/1.99% lease APR for 39/39/39 months on a new 2017 Corolla LE CVT (Model BURLECA)/2017 RAV4 FWD LE (Model ZFREVTB)/2017 Sienna 7-Passenger V6 (Model ZZ3DCTA) with an all-in price of $22,144/$29,369/$35,614 equals a weekly payment of $49/$59/$95 for 169/169/169 payments with a $2,700/$3,600/$3,900 down payment or trade equivalent when you apply $1,000/$1,850/$0 lease assist and/or customer incentive. First weekly payment due at lease inception. Total lease obligation is $10,900/$13,523/$20,004. All-in lease includes freight and fees (PDE, EHF, OMVIC fee and air condition tax, where applicable). HST, licensing, registration and insurance are extra. Dealer may lease for less. Based on a maximum of 60,000KM/60,000KM/60,000KM. Additional KM charge of $0.07/$0.10/$0.10 for excess kilometres, if applicable.♦$1,000 Customer Incentive is valid on retail delivery of a new 2017 Corolla LE CVT (BURLECA). Offer is valid to retail customers (excluding fleet sales) when leased, financed or purchased from an Ontario Toyota dealership. Customer Incentive will take place at time of delivery, include tax and will apply after taxes have been charged on the full amount of the negotiated price. Vehicles receiving Customer Incentives must be purchased, registered and delivered between September 1 to October 2, 2017. ▼RAV4 Incentive is comprised of Customer Incentive and/or Lease Assist. $1,500 Customer Incentive is valid on retail delivery of a new 2017 RAV4 FWD LE (Model ZFREVTB). Offer is valid to retail customers (excluding fleet sales) when leased, financed or purchased from an Ontario Toyota dealership. Customer Incentive will take place at time of delivery, include tax and will apply after taxes have been charged on the full amount of the negotiated price. And $350 Lease Assist on a new 2017 RAV4 FWD LE (Model ZFREVTB) is valid on Toyota retail delivery (excluding fleet sales) when leased from an Ontario Toyota dealership. Lease Assist includes tax and will be applied after taxes have been charged on the full amount of the negotiated price. Vehicles receiving Customer Incentive or Lease Assist must be leased, registered and delivered between September 1 to October 2, 2017. 2017 Camry/Camry Hybrid offer is comprised of a Cash Customer Incentive and/or Customer Incentive. $3,000/$3,500 Cash Customer Incentive is available on all new 2017 Camry models excluding Camry LE (BF1FLTA)/2017 Camry Hybrid and is valid to retail customers (excluding fleet sales) except customers who leased, financed or purchased from an Ontario Toyota dealership through Toyota Financial Services at a special rate of interest, offered by Toyota as part of a low rate interest program. All advertised lease and finance rates are special rates. $1,500 Customer Incentive is available on retail delivery of a new 2017 Camry LE (BF1FLTA). Offer is valid to retail customers when leased, financed or purchased from an Ontario Toyota dealership. Offers are valid to retail customers (excluding fleet sales) when purchased from an Ontario Toyota dealership. Offer will take place at time of delivery, include tax and will apply after taxes have been charged on the full amount of the negotiated price. Vehicles receiving offer must be purchased, registered and delivered between September 1 and October 2, 2017. ®Aeroplan and the Aeroplan logo are registered trademarks of Aimia Canada Inc. ΩDealer Fees may be added and may be comprised of administration/documentation fees, VIN Etching, anti-theft products, cold weather packages or other fees. Fees may vary by Dealer. For more information on vehicle features, please see toyota.ca, your local Toyota Dealer or Owner's Manual for details. Offers are valid between September 1 to October 2, 2017, and are subject to change without notice. All rights are reserved. Dealer may lease or sell for less. Dealer order/trade may be required, but may not be available in all circumstances. Please see your participating Ontario Toyota Dealer for full details